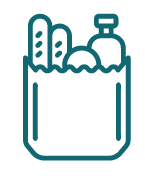 Follow these guidelines for the packaging and sale of groceries on site. This Manager's Guide provides recommendations for product assortment, the customer ordering process, order fulfillment, pricing, point of sale, payment and tips for launch.
Operations can also utilize this editable signage to promote the Grocery 2GO program to customers.
Additionally, this graphic is available to help promote social distancing and can be used for signage to indicate a safe distance.
Entegra customers can find ordering forms for their distribution houses as well as a distribution matrix in the Client Portal's Coronavirus Illness and Prevention resource center under the Food and Grab'n'Go section.