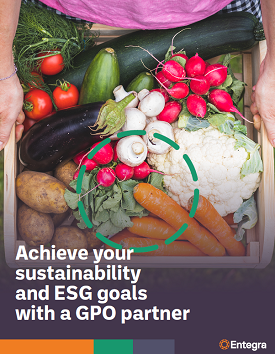 Entegra understands that making CSR and ESG a core part of your business isn't an overnight process. We also know that you might not have the resources to measure sustainability metrics defined by environmental social governance, which is why we're here to help, with everything from engaging suppliers to integrating sourcing practices into your ongoing procurement strategy.
It's easy being green with the help of group purchasing.
Entegra offers a range of capabilities in CSR and ESG program development and implementation, including:
Food waste reduction programs
Diverse supplier programs
Plant-forward menu development
Supply chain traceability improvements
Responsible sourcing practices
Sourcing recyclable paper and packaging
Sourcing eco-certified and otherwise certified products and ingredients
Energy and water conservation programs
Learn more about implementing sustainability as a core part of your business, and how you can partner with Entegra.
Download "Achieve your sustainability and ESG goals with a GPO partner"